Durable Handrail Solutions in Saint Albans, Charleston and Throughout West Virginia, Kentucky, Ohio
We install outdoor railings for decks, stairs, porches & more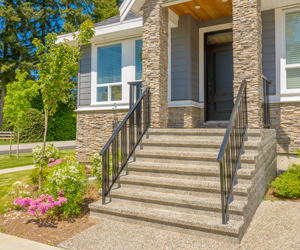 Safety first: A handrail should be installed no matter what size staircase you have to help prevent physical injuries.
Alford Home Solutions installs secure, durable handrails that are suitable for all residential and commercial properties and are designed to provide years of worry-free use. We offer railings for decks, stairs, porches, ramps, balconies, and walkways in a variety of styles and materials. Our specialists will help you choose a handrail to match your existing fence or create a customized look to fit your needs.
For a free consultation and quote, give us a call at 1-844-675-6343 today! We are your local expert for deck design and installation in Charleston, Saint Albans, Huntington and surrounding West Virginia, Kentucky, Ohio.
Handrail styles for residential & commercial applications
Whether you are looking for a maintenance-free railing system or want to add a decorative touch to your front steps, you can count on us for quality installation and products. Our handrail products always meet local and national building codes and provide superior safety. We offer railings and balusters in a variety of styles, materials, and colors to give you the look and feel you want.
Wrought Iron: Wrought iron railings are both durable and decorative. They can be welded into different shapes and patterns to match your home's décor. Wrought iron railings can outlast other materials.
Aluminum: Aluminum handrails are easy to maintain and do not require painting or staining. Aluminum is also an extremely durable material and can easily withstand the elements.
Vinyl: Vinyl is a cost-efficient solution for your handrail needs. Vinyl handrails provide durability while creating a sleek look.
Wood: Wood railings can be added to your existing deck. Wood can be stained or painted to keep a consistent appearance.
Get a no-cost quote for railing installation & replacement
If you are building a new deck or porch or want to replace your old worn-out handrails, Alford Home Solutions can provide the help you need. We're the local experts for complete deck and patio services, including custom handrail installation. We offer free estimates for handrail installation and replacement to customers in Saint Albans, Charleston, Huntington, Beckley, Athens, Portsmouth, Marietta, Ashland, Pikeville, Ironton and throughout the Tri-State Area.
Looking for a price? Get a no cost, no obligation free estimate.