Expert Crawl Space Repair Contractor
Keep your crawl space safe from moisture, mold, and structural problems in Saint Albans, & nearby WV, KY, OH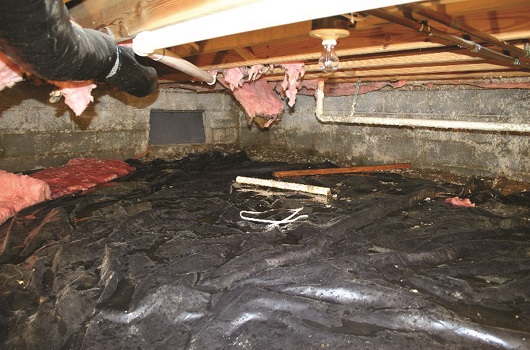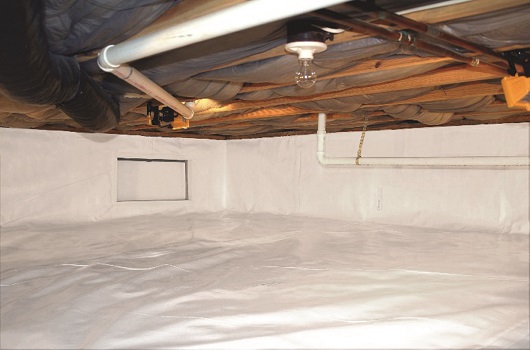 Moisture in a crawl space causes mold and falling insulation. The CleanSpace system prevents these issues.
Your crawl space might seem out of the way, but issues like moisture or water problems in your crawl space can actually effect the health, safety, and comfort of the whole home. If you don't want to worry about mold, rotted floor joists, or pest infestations, your best options are crawl space encapsulation, moisture control, and waterproofing.
Do you have a problem in your crawl space? Contact your local experts at Alford Home Solutions today and schedule your crawl space inspection and free cost estimate today in Saint Albans, Charleston, Huntington, and nearby West Virginia, Kentucky, Ohio.
Our Crawl Space Services in Saint Albans & nearby WV, KY, OH
Signs of a Crawl Space Problem:
Excess moisture in the crawl space can contribute to:
Musty odors and poor indoor air quality
Feeling of dampness in the living area
Buckled hardwood floors
Mold growth
Allergic reactions and worsened asthma symptoms
Wood rot
Increased energy usage and bills
Pest infestations
Our Proven System for a Dry Crawl Space
Crawl space encapsulation will improve the home's comfort and energy efficiency.
Crawl space enscapsulation is the most effective way to combat moisture, mold, comfort, and structural problems stemming from your crawl space. Our crawl space encapsulation system is proven to effectively combat all these problems.
During crawl space enscapsulation we cover the entirety of your crawl space walls and floors with premium-quality CleanSpace 20-mil vapor barrier. This vapor barrier is also covered by a 25-year warranty against rips and tears. As for the crawl space vents, we'll cover these with vent covers that never need painting. Finally we'll install a powerful, energy-efficient SaniDray dehumidifier to control moisture and prevent mold growth.
Our crawl space solutions include:
Vapor Barrier
Dehumidifier
Insulation
Vent Covers
SmartJack Leveling Supports
Sump Pumps & Drainage Systems
Mold Treatment
Start right with a free estimate on your crawl space project
Do you have moisture in your crawl space, settlement, uneven floors, water or flood damage, pests, mold, or damaged insulation? The experts at Alford Home Solutions can take care of all these problems.
A vented or unsealed crawl space effects your whole home. Up to half of the air in your home comes from or passes through your crawl space, picking up any mold, dust, contaminants, or moisture down there. Don't dismiss crawl space problems as isolated issues. Make sure you clean up your crawl space right away. Invest in your health, safety, and comfort with a crawl space system that's proven to provide years of worry-free performance and protection.
Contact us online today or call 1-844-675-6343 to schedule your on-site crawl space repair consultation and free cost estimate, available in Saint Albans, Charleston, Huntington, and surrounding areas in West Virginia, Kentucky, Ohio.
Looking for a price? Get a no cost, no obligation free estimate.