Experienced Basement Finishing Contractor
Enjoy all the benefits of a beautiful basement in Saint Albans, Charleston, & nearby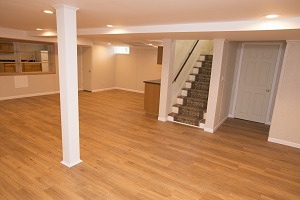 Our experienced team can help you make a basement space that is beautiful, long-lasting and waterproof.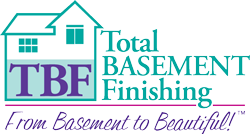 Are you looking for more beautiful, warm, and healthy living space in your home? A professional basement finishing from Alford Home Solutions is just what you need. As a proud installer of the Total Basement Finishing™ System, we can create a dry usable space that will stay healthy, safe, and dry for good. Not only will our products not absorb moisture, but they'll also help prevent mold growth.
All of our TBF patented products also come with impressive warranties that guarantee you'll be able to enjoy your waterproof basement space how you'd like. Whether you want beautiful extra living space, or just waterproof storage space, Alford Home Solutions has your back.
Contact us today and schedule your free on-site estimate in Saint Albans, Charleston, Huntington, and throughout nearby the Tri-State Area.
Finished basement walls, floors, ceilings & more!
The Total Basement Finishing™ System is a complete basement finishing process. We carry a variety of basement remodeling products, including wall panels, flooring, and ceiling tiles, as well as other solutions like windows, lighting, and electrical work. No matter what your basement environment or nearby climate, our products are designed to withstand the test of time.
Our basement finishing system is also highly versatile and can be used to create nearly any kind of room you want. Do you want an extra bedroom? Maybe just some living space? How about an entertainment room? Our basement finishing products can do all of this and more!

Free basement remodeling quotes for the Tri-State Area's homeowners
If you're interested in planning and pricing for your remodeling project, Alford Home Solutions can help. We would like to offer you a free basement design quote at no obligation.
Your free quote includes all of the following:
A professional on-site basement inspection.
A design consultation with Total Basement Vision - our interactive software program.
Your basement finishing proposal, in writing and e-mailed to you or printed right away.
Our full-color 88-page book: "Basement Finishing Science."
At Alford Home Solutions, our mission is to provide you with responsible basement finishing, at a fair price, while providing exceptional customer service. Call or e-mail us today for a free estimate on finishing your basement in Beckley, Athens, Portsmouth, Marietta, Ashland, Pikeville, Ironton or nearby!
Looking for a price? Get a no cost, no obligation free estimate.