Wood-Boring Beetle Protection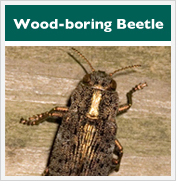 Your home is an appealing target for wood-boring beetles. Old house borers, powder post beetles and deathwatch beetles can cause severe damage to your home, furniture and belongings.
Beetles work within the wood, out of sight from homeowners, often going undetected. Alford Home Solutions offers several types of treatment plans to protect your home from the damage caused by wood-boring insects.

Our Solution
Alford Home Solutions' wood boring treatment program starts with a thorough inspection of your home, which includes a survey that details current activity and damage caused by wood-boring insects.
Determining the extent of damage is the first step in developing a treatment approach. Factors such as climate, type of construction and age of your home are all considered when creating a customized approach for treatment. The next step is to reduce the moisture content in the crawl space and wood. The moisture content of the wood in your home should be below 20%.
We use a product called Bora-Care which is a surface treatment that will prevent newly hatched larvae from entering the wood.
Looking for a price? Get a no cost, no obligation free estimate.